N22's bigger brother, N22H features all of the same C.A.S.T. facilities as N22 but with the addition of aa reference-quality, reference-grade headphone amplifier strapped across its outputs. Utilising a design based off of our flagship 500R8, N22H's headphone amplifier is a crucial tool for musicians during tracking, or engineers during mixing/mastering to drive their headphones with plenty of clean power.
Connect N22 and N22H together and now you can use the C.A.S.T. system to deploy headphone amplification where it is needed in your studio - right beside the musician.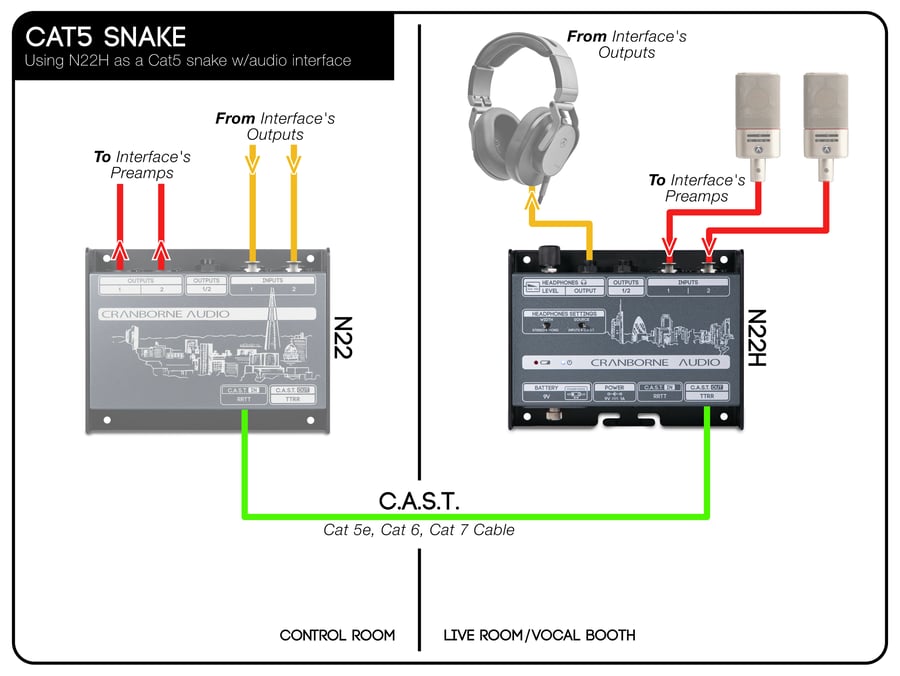 With a flat Frequency Response from 0.8Hz to above 250kHz and ultra-low distortion (0.0009% THD+N, 100 kOhm load), N22H can power headphones with clean, transparent power during critical listening, mixing, and mastering. There's also enough power (up to 950mW per-ear) to drive headphones at high-volumes during tracking - perfect for loud drummers!

N22H can also be powered using the included 9V DC power supply or a 9v battery for up to 10 hours of headphone amplification when power isn't available nearby.